NRS-428 Topic 1 DQ 2: Discuss how geopolitical and phenomenological place influence the context of a population or community assessment and intervention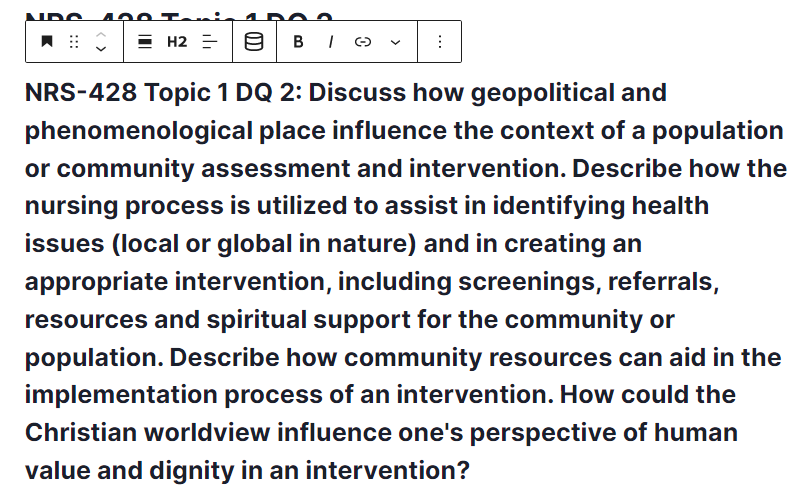 NRS-428 Topic 1 DQ 2: Discuss how geopolitical and phenomenological place influence the context of a population or community assessment and intervention. Describe how the nursing process is utilized to assist in identifying health issues (local or global in nature) and in creating an appropriate intervention, including screenings, referrals, resources and spiritual support for the community or population. Describe how community resources can aid in the implementation process of an intervention. How could the Christian worldview influence one's perspective of human value and dignity in an intervention?
Communities have 3 components: the population, a location, and a social system; therefore, nurses assessing the communities consider the people within, the boundaries of the location, and the general environment where the community exists" (Green, 2018). Public health nursing ranges from care of families, communities and extend to large population and geographical areas.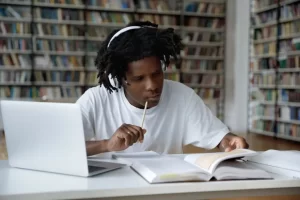 The health of a population is shaped by the social and geopolitical determinants of health. Geopolitical place includes geographic features of the place, the climate conditions, natural disasters, legal and political boundaries. Geopolitical determinants of health are related to "governments, geographies, policies, and interests of countries and the relationships between them" (Persaud, A., et.al., 2021).
National or local policies influences resource allocations and wealth distributions which directly affects health outcomes.
Phenomenological place is a relational location that is based on past human experiences. The experience here is individualized. Phenomenological place "centers on history, culture, economics, education, spiritual beliefs, values, common characteristics, or similar goals" (Green, 2018). People in the same community may have similar interests, and this assessment will guide in population assessment.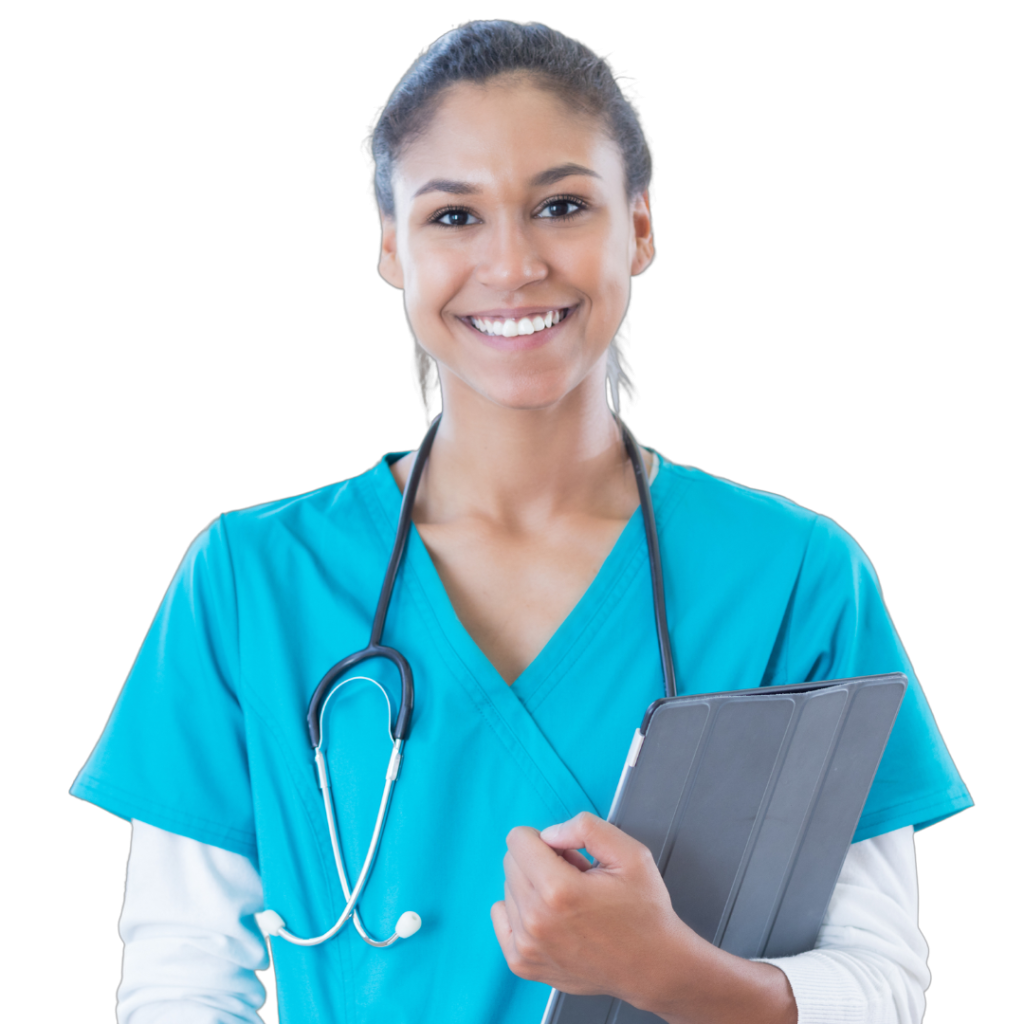 Struggling to Meet Your Deadline?
Get your assignment on NRS-428 Topic 1 DQ 2: Discuss how geopolitical and phenomenological place influence the context of a population or community assessment and intervention done on time by medical experts. Don't wait – ORDER NOW!
The geopolitical and phenomenological place help in the development of geographical, political, and psychosocial context that guides population.
In conducting a community assessment, the nurse utilizes the nursing process of assessment/analysis, diagnosis, and planning. Asses the make-up of the population, the environment, and the available resources. The nurses will assess the community based on the Social Determinants of Health (SDOH) and will assess the social and environmental need of the community for health promotion. Based on the findings, the nurse formulates a nursing diagnosis and nursing goals.
This is the stage that health disparities and health need appear very glaring. The nursing interventions will be prioritized based on the critical level of each identified need. Policy is formed based on these external environmental factors. Community resources like clean water and sanitation, quality education, industry, infrastructure etc., will help ensure healthy lives for the community.
Provision of clean water and sanitation will eliminate spread of diseases. Quality education will help the community understand the importance of engaging in healthy practices like healthy eating habits, importance of vaccinations, and promotion of overall health.
Human values and dignity are universal rights. Christian worldview is that all humans are created equal. Everyone deserve to live well, and people should take care of their body, soul and spirit. Christians believe in spirituality to facilitate health promotion, healing, and coping through insight and reflections as well as religious practice.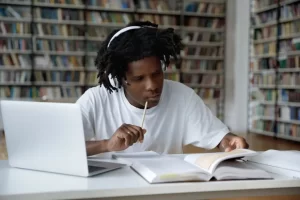 "Religious institutions have long been important sites for public health interventions" (Musgrave, C.F., et.al., 2001). Churches partner with public health to bring positive health promotion outcomes. They especially reach hard-to-reach populations.
References
Green, S.Z., (2018). Populations as Clients. In Community & public health: The future of health care. (Chapter 1). Grand Canyon University. https://lc.gcumedia.com/nrs427vn/community-and-public-health-the-future-of-health-care/v1.1/#/chapter/1
Musgrave, C. et.al., (2001). Spirituality and Health for Women of Color. https://ajph.aphapublications.org/doi/full/10.2105/AJPH.92.4.557
Persaud, et.al., (2021). Understanding geopolitical determinants of health. Bulletin of the World Health Organization, 99(2), 166–168. https://doi.org/10.2471/BLT.20.254904
The geopolitical community is a spatial identifier that denotes a place or region. The most conventional perspective on community study is this one. Natural or artificial boundaries define geographical groups.
A natural boundary might be created by a river, a mountain range, or a valley. Humans can draw institutional, political, or legal boundaries. Railroad tracks, bridges, and highways can all serve as structural borders. City, national, or state lines define legal boundaries.
A phenomenological community on the other hand is a group of people who have shared or like-minded relationships, values, interests, beliefs goals. Like the geographical community, the phenomenological community does not generally share geographical borders. Examples of phenomenological communities include religious groups and social groups.
Phenomenological designations, in other words, are relational designations often identified in terms of their sense of belonging. A phenomenological community on the other hand is a group of people who have shared or like-minded relationships, values, interests, beliefs goals. Like the geographical community, the phenomenological community does not generally share geographical borders.
Examples of phenomenological communities include religious groups and social groups. Phenomenological designations, in other words, are relational designations often identified in terms of their sense of belonging. A nursing process is a methodical approach to problem-solving used to recognize, avoid, and treat current or potential health issues as well as to promote well-being.
It consists of five steps: diagnosis, planning, execution, and assessment. Public health nurses work together for many community organizations, although they encounter significant challenges. First and foremost, public health nurses face linguistic and cultural barriers.
They work cooperatively in different health-related fields with a range of backgrounds. Peer review, reflecting practice, creating goals, improving knowledge of other communities and practices, self-assessment, and utilizing the nursing method to provide clinical service are some of the best strategies for boosting quality to address these hurdles. It involves evaluation, planning, execution, diagnosis, and assessment.
Mignolo, W. D. (2018). Decoloniality and phenomenology: The geopolitics of knowing and epistemic/ontological colonial differences. The Journal of Speculative Philosophy, 32(3), 360-387.
Mahmoud, Y. (2019). People-centred approaches to peace: At cross roads between geopolitics, norms, and practice. In United Nations peace operations in a changing global order (pp. 91-109). Palgrave Macmillan, Cham. https://library.oapen.org/bitstream/handle/20.500.12657/22919/1007242.pdf?se#page=110
Geopolitical understandings can give health determinants an additional perspective that might be otherwise overlooked. For example, migration is a key determinant of individual mental health. Globally, migration flows are shaped by geopolitical processes such as war, famine, colonization, climate change or oppression of minorities.
Migrants' mental health status, which can be assessed from local rates of mental illness and health-care use in migrant groups, is therefore geopolitically determined.
While the state of being a migrant intersects with conventional social determinants, including employment, education, life adversity and social support, ignoring the geopolitical dimension of health leads to downplaying the cultural experience of migration and of minority status, which drives chronic stress and affects health.
Accordingly, conceptualizing migration flows and migration policy response as geopolitical determinants can contribute to identifying levers for intervening on migration policy to improve health.
Policy-makers' lack of a sufficiently geopolitical perspective has resulted in limited incorporation of the work of public health researchers and practitioners in this field into public health policies.
Geopolitical perspectives on health include the determination of outcomes and collection of health-relevant data such as income, crime, adversity, health surveillance and screening, in addition to the current COVID-19 testing as part of test and trace programmes.
These factors transcend national boundaries (and therefore overlap with, but also go beyond national political dynamics) and rest on cross-country comparison. However, these factors are overshadowed by approaches that focus on countries as entirely separate entities. Observable patterns in data on health determinants (such as income, race and employment) are shaped by the ways those data are collected.
These data are inherently geopolitical, as reflected in the discussion about ownership and control of the widening 5G telecommunication networks in the United Kingdom of Great Britain and Northern Ireland, the role of China and Huawei in this next-generation wireless technology, and the complex controversy over the ownership and delivery of the United Kingdom COVID-19 contact tracing app.
These discussions bring to the fore the importance of understanding state information gathering and/or surveillance mechanisms, and their relationship to security and wider geopolitically relevant policy, as ease of access to big data on health-related metrics has become crucial.
The impact of democratic enfranchisement on health is well recognized in epidemiological research. However, systematic examination of the health impact of advancing state-level populism is still lacking .An equivalent aspect of populism is the apparently escalating public antipathy towards the concentration of wealth – because wealth tends to determine better health outcomes.
Existing political analyses of health have a predominantly state-based perspective that may not fully address the complexity, porosity and profound individual and societal implications on health of advancing populist political hegemonies around the world.
This gap includes circumstances where health challenges, such as infectious outbreaks, in turn shape the geopolitical dynamics that link countries together; as such, the relation between geopolitical factors and health can be bidirectional.
References
1. Marmot MG, Wilkinson RG. Social determinants of health. 2nd ed. Oxford: Oxford University Press; 2006. p. 366. [Google Scholar]
2. Kickbusch I, Allen L, Franz C. The commercial determinants of health. Lancet Glob Health. 2016. December;4(12):e895–6. 10.1016/S2214-109X(16)30217-0 [PubMed] [CrossRef] [Google Scholar]
3. Krieger N. Methods for the scientific study of discrimination and health: an ecosocial approach. Am J Public Health. 2012. May;102(5):936–44. 10.2105/AJPH.2011.300544 [PMC free article] [PubMed] [CrossRef] [Google Scholar]
An area that is defined by natural or man-made boundaries, such as hills, climate, and rivers, is considered to be a geopolitical location. The government's allocation of resources and the provision of crucial services like healthcare are guided by these boundaries, which can be easily identified on a map.
Community assessments are influenced by geopolitical locations by determining where a community assessment should focus. this is because a community in the same geographical area faces similar health risk factors and challenges as a result of a shared environment and similar risk factors. A phenomenological place, on the other hand, is an area where people share or are similar to the same values, interests, or goals.
This could be a social, academic, professional, or religious group. A population in a phenomenological area has similar characteristics and requirements, which may influence how health interventions are implemented.
Defining the community is an important step in health assessment because it directs healthcare stakeholders in developing community health improvement plans by identifying community resources that can be used to address the community's health needs.
Through a collaborative approach in which community stakeholders are involved in the planning and decision-making process, the nursing process is utilized to assist in the identification of health issues and the creation of an appropriate community intervention.
A community health nurse can thus identify community requirements and resources that can be utilized to achieve desired healthcare objectives. Health education is another area where the nursing process can be put to use. By working with stakeholders in the community, nurses can tailor health education programs to meet a community's specific needs (Grand Canyon University, 2018). Because of this, the health education process is successful because community members use preventive health measures like screening to catch illnesses early.
Reference
Grand Canyon University. (2018). Community and Public Health: The Future of Health Care. https://lc.gcumedia.com
Geopolitical place is defined as an area delineated by natural boundaries or man-made boundaries such as rural areas or communities in the city and phenomenological place is an area where the population has similar or identical features. So, when looked at in the context of population or community assessment and intervention, I will like to look at one community in Washington DC, ward 8 as an example.
Ward 8 was farmland during the early history of Washington DC. It is the home to the Anacostia, Congress Heights and Bellevue neighborhoods as well as, the Frederick Douglass House, Saint Elizabeth's Hospital, Bolling Air Force Base.
It has a population of 80,517 with the following distribution: White: 3,437(4.27%), Black/African American: 73,946 (91.84%), and Hispanic/Latino: 2,511(3.12%) (DC Health Matters).
This is one of the poorest and underserved communities in Washington DC because of the demographic taking into account the health disparities that exist among Whites, Blacks and Latinos in general, and using the nursing process, the community health nurse can assess the needs of the community,
outline the diagnosis, make plans, outline the interventions for the diagnosis, and evaluate the outcome of the proposed plan. In the case of ward 8, the public health nurse assessment of this ward highlighted these findings:
Education: 2 High Schools; 14 Elementary Schools (PK3-5); 3 Middle Schools; 38.05 % of High School Diploma holders; 5.35 % of Assoc. Degree holders; 10.26 % of Bachelor's Degree holders; and 7.19 % of Master's Degree holders.
For Health: 2 hospitals, 3 community health centers, 2 pediatric providers, and 2 adult health providers.
For Housing: 2.42 persons per
household versus 2.07 persons for DC average which means people are living in
overcrowded living arrangements.
For shopping needs: only 1 Grocery
store is available in this ward.
Economics: 18.04 % unemployed compared to DC average of 7.28 %; Household median income is $32,176; Black income $37,335; White income $108,199; families below the poverty line is 26.61 %
Source: Health Equity Report: District of Columbia (2018)
From these assessment findings, the community health nurse can diagnose this community with multiple health issues such as ineffective health maintenance related to lack of financial resources as evidence by low income or unemployment. The nurse will make plans to improve the health status of the residents and will include interventions such as assisting in coordinating appointments and transportation where needed for the residents to get to their appointments. Engaging stakeholders in the community and at state level will help identify and appraise resources for communities like ward 8 in DC.
Through advocacy by public and community health, and other stakeholders, the intervention to curb the health problems of this community included in the plan is building a new GW Health Hospital and trauma center that was presented by the city administrator on June 23rd, 2020 to Ward 8 stakeholders and community members. This hospital is anticipated to be opened in the fall of 2024 ($306M funded by the District & Universal Health Services).
Reference:
DC Health Matters. (n.d.). DC health matters :: Demographics :: Ward :: Ward 8. https://www.dchealthmatters.org/?module=demographicdata&controller=index&action=index&id=131495§ionId=
Geopolitical and phenomenological place greatly influence the context of a population or community assessment and intervention. "A geopolitical place consists of community boundaries, transportation infrastructure, geographic features, climate, vegetation, animals, and human-made homes and facilities" (Green, 2018). Factors such as politics, agriculture, animals, temperature, school districts, and more can affect how diverse a population is and the readily available health resources. Nurses utilize the nursing process for the community, but instead of using ADPIE for one specific patient, they use SWOT for the community analysis. SWOT stands for strengths, weaknesses, opportunities, and threats (Green, 2018). These categories help nurses develop plans to implement interventions and evaluate them. A community assessment requires a nurse to research a community's safety and quality aspects to understand the interactions among the population, environment, and resources. Community interventions are developed based on these geopolitical assessment findings to improve a population's health outcomes in the given community. Interventions like health screenings, referrals, resources, and spiritual support can improve health disparities found in the community. Nurses collaborate with institutions in the community, such as nonprofit organizations, churches, and schools to reach citizens in the area. GIS tracking also helps nurses define where health disparities are most common in the community and analyzes data related to the geography of the area.
According to the book of Genesis 1:27, "God created man in his image." (Genesis 1:27, NIV). Therefore, the Christian worldview sees every human with intrinsic value and dignity because we are all created in God's image.
Everyone deserves to be treated equally in healthcare, regardless of their ethnicity, gender, economic status, degree of education, or state of health (Bogue et al., 2022).
Bogue D. W. & Hogan M. (2022). Foundational Issues in Christian Spirituality and Ethics. BibliU. Practicing Dignity: An Introduction to Christian Values and Decision Making in Health Care (Second Edition) https://bibliu.com/app/#/view/books/1000000000591/epub/
Genesis 1:27. New International Version.
Green, Z., S. (2018). Populations as Clients. In Grand Canyon University (Ed). Community & public health: The future of health care. https://lc.gcumedia.com/nrs427vn/community-and-public-health-the-future-of-health-care/v1.1/REPLY
From a community health perspective that assesses the needs of a specific population it is important to ensure that you are looking at the geopolitical and phenomenological and how these two factors play a role in influencing the community.
A geopolitical place is defined as the geographic features and human made structures that create boundaries that influence transportation, climate, vegetation, and wildlife (Green, 2018). For example, you would not be too concerned about a bear attack within the city of Las Angelas, because the geopolitical features of the city do not provide an environment that allows bears to thrive and interact with humans. However, the concern of bear attacks may be more appropriate to the community that lives around Lake Tahoe. Therefore, when applying the nursing process to identify a potential health concern for the residents and visitors of Lake Tahoe, you could create an education initiative to teach people how to properly store food and safeguard their properties. You could influence policy to require bear boxes and bear mats to be installed in high-risk housing environment and require the city to place signs that warn people about the potential dangers of bears. This is just a simple example of how geopolitical place can be applied to the nursing process and help better direct care and interventions.
When referring to the phenomenological factors, it is centered around a community culture, history, lived experiences, spiritual influences, traditions, values and other characteristics that are unique to the community (Green, 2018). An example of this would be, around this time of year in Santa Barbara they city celebrates the old Spanish days and throws a weeklong party called Fiesta. This time is extremely beneficial to the business within the downtown area due to the large amounts of people that flock to celebrate, spend money, and enjoy the fiesta. However, one of the health concerns that comes to mind is the impact that this event has on Santa Barbara's homeless population and the stress that these events have on emergency services. In anticipation of this event a public health nurse can also apply the nursing process to assess the needs of the community and implement changes to better serve the effected communities. One example that I can think of is the organization City Net partners with the Good Samaritan to reach out to the homeless population to help locate, identify and build relationships with people who may be affected and provide them with support, access to resources and connection with homeless assistance programs (Hartstein, 2023).
The Christian world view may help provide a community health nurse with the perspective that all people within the community have an equal level of inherent value. The Christian perspective emphasizes that we are all created in the image of God and therefore are seen as equal under God (Penner, 2017). Through the viewpoint of Christian ethics, a nurse may be more inclined to advocate against social injustices and be more cognizant about inequity in matters that deal with healthcare resources.
Between the geopolitical place, and Phenomenological place what do you think has the greatest impact on a community and what are some examples of these two characteristics that you can think of within your community?
References
Rec, P. &. (2022, September 15). Preparations underway for the return of Fiesta. Parks and Recreation. https://sbparksandrec.santabarbaraca.gov/news/preparations-underway-return-fiesta
Hartstein, N. (2023, June 3). News-press special report: City of santa barbara tackles homelessness – santa barbara news. Press. https://newspress.com/news-press-special-report-city-of-santa-barbara-tackles-homelessness/
Penner, M. (2017). Navigation. Intrinsic Human Value Is the Same for All and Can Never Be Lost. https://www.str.org/w/intrinsic-human-value-is-the-same-for-all-and-can-never-be-lost
Green, S. (2018). Populations as Clients. Community & Public Health: The Future of Health Care. Grand Canyon University (ed.) https://lc.gcumedia.com/nrs427vn/community-and-public-health-the-future-of-health-care/v1.1/#/chapter/1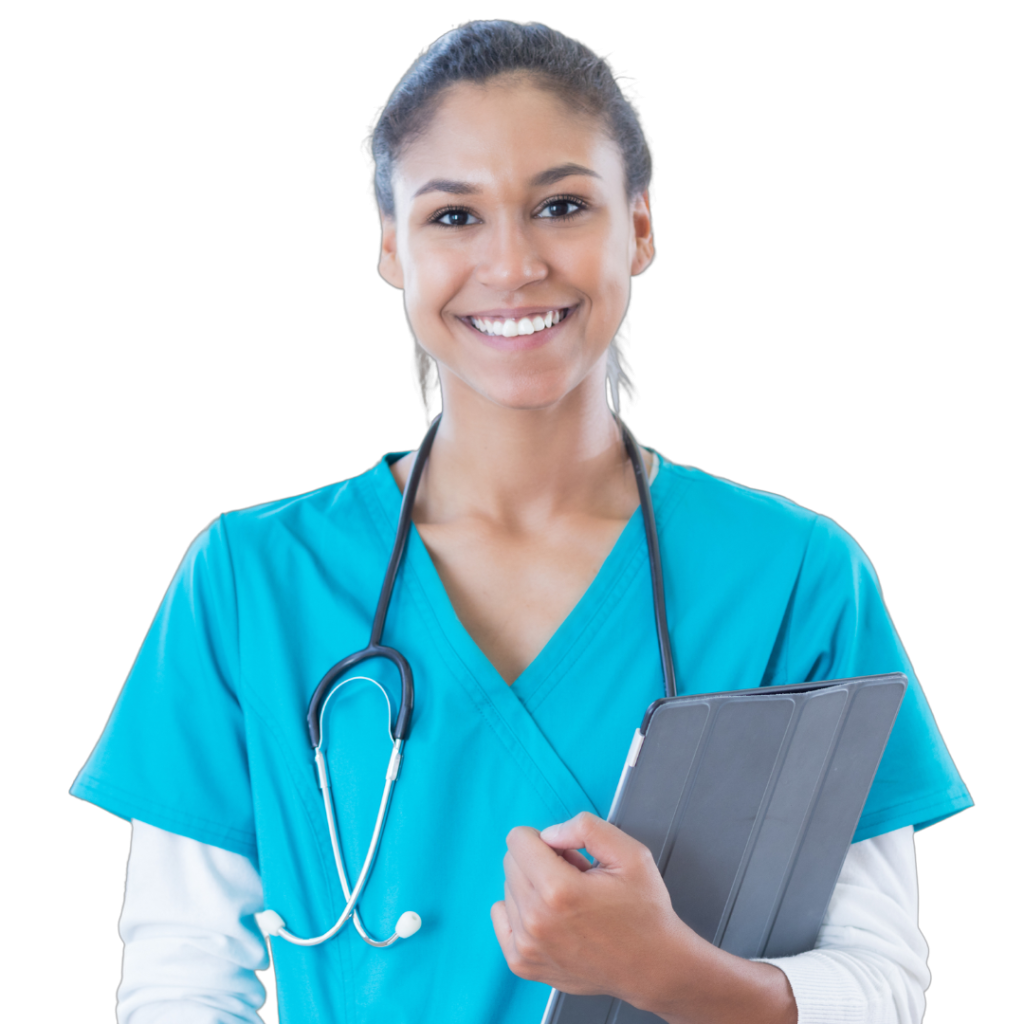 Don't wait until the last minute
Fill in your requirements and let our experts deliver your work asap.