NR 390 Week 1 Course Project Milestone 1 Recent
NR 390 Week 1 Course Project Milestone 1 Recent
NR 390 Week 1 Course Project Milestone 1 Recent
Course Project Milestone 1 Guidelines
Purpose
To apply lessons in
nursing history
to living nurses contributing to nursing history through an interview and recording of historical information
Course Outcomes
The Course Project enables the student to meet the following Course Outcomes
CO 1. Incorporate appropriate historical perspectives into current professional nursing practice. (PO #2)
CO 4. Compare current professional nursing practice roles with historical roles of the nurse. (PO #7)
Points
The entire project is worth 600 points. Milestone 1 is worth 100 points of this total.
Due Date
Submit your completed NR390 Milestone 1 by Sunday at 1159 p.m. MT at the end of Week 1.
Requirements and Guidelines
1. Nursing history is being made today by exemplary nurses throughout the world. Select one registered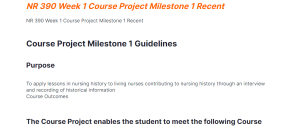 nurse who is creating nursing history to be the subject of this project. This RN must have at least 15 years of RN licensure. The nurse could be a family member, friend, colleague,
acquaintance, manager, former instructor, or other nurse who is creating, delivering, or influencing the practice of nursing in your area. Do not select a former or current patient.
Remember that a nurse does not have to create a nursing theory, write textbooks, or be the head of a nursing organization to make nursing history. The chief nurse executive who manages to deliver
quality care
in a small rural hospital with a tiny budget has a story worth telling. The nurse who served in the military has a story that is important to document as nursing history. The staff nurse who consistently provides high-quality care is making history. History is not merely the major accomplishments or events, but includes the activities nurses everywhere do in their nursing lives. Milestone 1 is due at the end of Week 1.
2. Clearly explain to the selected nurse that statements made in the interview will be recorded (audio, video, and/or written) and submitted to instructor. The interview is not intended for public access.
3. Obtain permission from the selected nurse to participate in an interview about his or her
1. memories of nursing and nursing education;
2. contributions to nursing; and
3. persons or events that have
influenced his or her nursing practice.
4. Carefully review the Milestone 1 Grading Criteria and Grading Rubric below. Complete only Milestone 1 requirements at this time.
5. Download the Milestone 1 Template (Links to an external site.)Links to an external site.. Save it to your computer in Microsoft Word 2010 (or later) as a .docx file with the file name Your Last Name Milestone 1.docx. Type directly on your saved Milestone 1 Template. Submit your completed Milestone 1 as instructed by Sunday of Week 1.
6. NOTE Do not complete the interview at this time.
A Sample Answer For the Assignment: NR 390 Week 1 Course Project Milestone 1 Recent
Define Approved Patient Scenario
The scenario involves poorly controlled diabetes. Frank Jones presents himself at the community health center with type 2 diabetes, whose control and management have become a significant family problem. Frank has struggled to keep glucose levels within the desired health range in the past six months. Other concerns include carb intake control and timely data sharing with his doctor.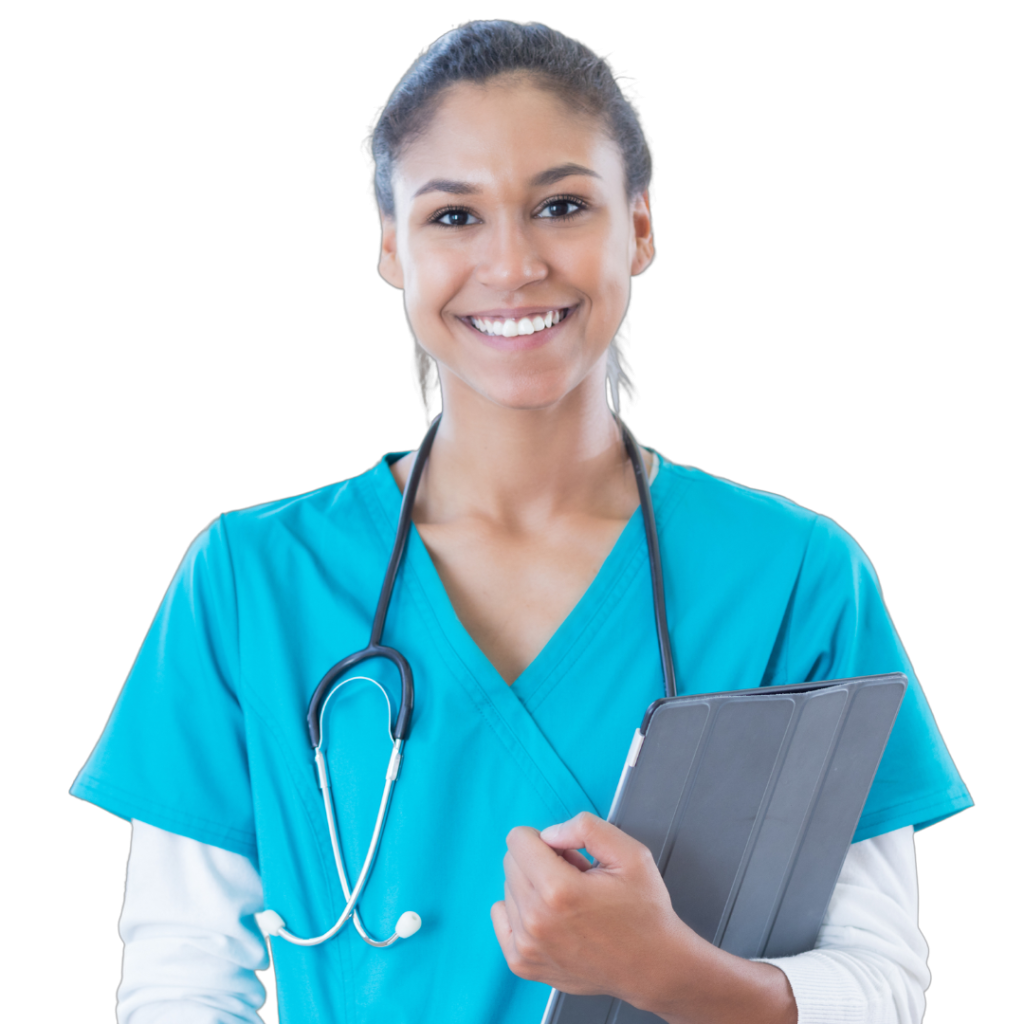 Struggling to Meet Your Deadline?
Get your assignment on NR 390 Week 1 Course Project Milestone 1 Recent done on time by medical experts. Don't wait – ORDER NOW!
As a result, he wants advice and medical assistance on overcoming these problems and achieving optimal health. Based on his concerns and questions, Frank shows readiness to learn about the effective management of type 2 diabetes. The focus of patient education should be showing him how to use mHealth for better disease management.
Identify Teaching Areas related to the mHealth app
Information: the patient will be taught the purpose of the MySugr app, its essential features, and how it is designed to support patients in diabetes management. The app guides patients on carb counting, continuous glucose monitoring, and bolus dose estimations ((mySugr GmbH, 2021).
Safety features/guidelines provided by the mHealth app: focus areas include risks and how to use the app safely to record, analyze, and share data with care providers. This knowledge will allow patient to use the app online and offline, secure private data, and block intrusive ads.
Interpret and act on the information in the mHealth app: primary information area here is determining when the patient is at risk depending on glucose levels, carb intake, and bolus doses as the app indicates. Potential actions depending on the information in the MySugr app include increasing physical activity, regulating dietary intake, and seeking professional health advice.
Determine and Evaluate Success
Data analysis: the healthcare provider can compare the patient's data before and when using the app to evaluate progressive changes in health. Improved glucose levels, dietary intake, and physical activity would be reliable success indicators.
App-related questions: the patient asking questions regarding information interpretation, app security, and data sharing would indicate active use and continuous engagement.
Knowledge evaluation: the patient can answer random questions regarding the app, such as usage, challenges, and its practicality in diabetes management. Privacy and security challenges usually inhibit mHealth apps usage. A holistic assessment of the patient's experience is crucial to determine success.
mHealth app Reference
mySugr GmbH. (2021). mySugr – Diabetes tracker log [Mobile app). App Store. https://apps.apple.com/us/app/mysugr-diabetes-tracker-log/id516509211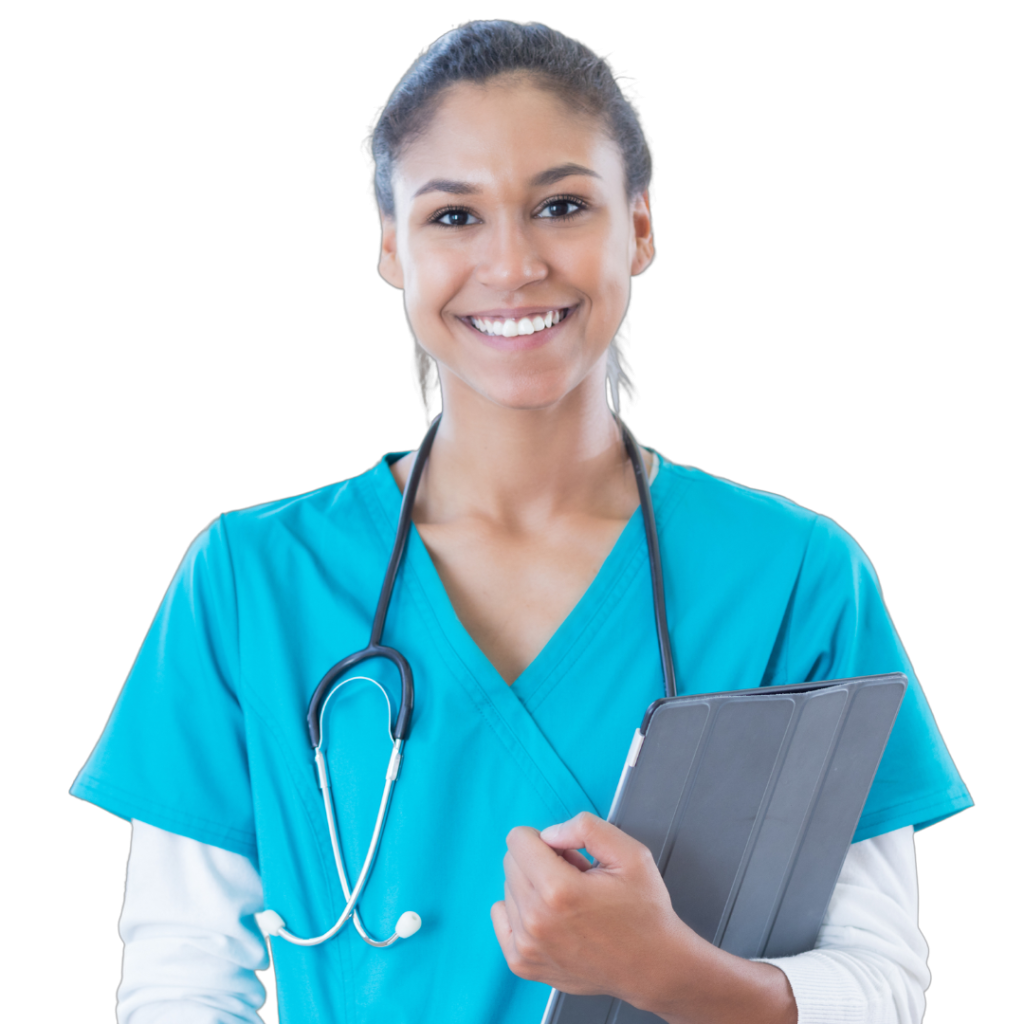 Don't wait until the last minute
Fill in your requirements and let our experts deliver your work asap.