Discussion: The Role of the RN/APRN in Policy Evaluation NURS 6050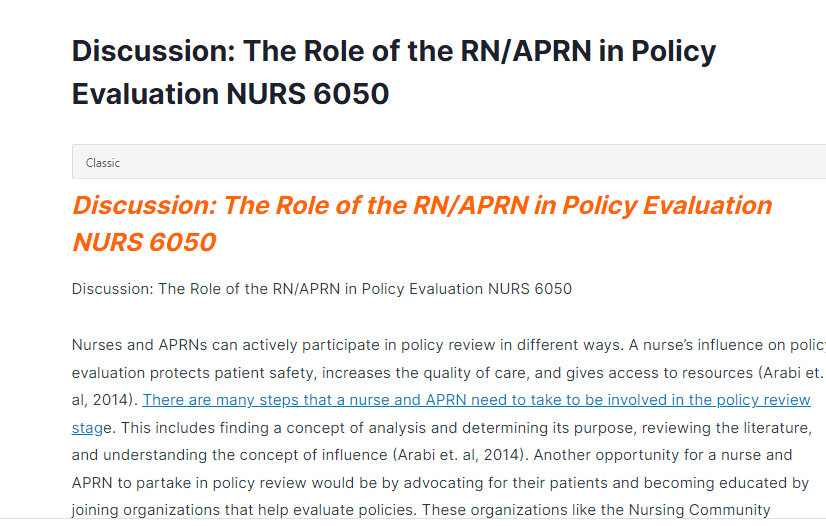 Discussion: The Role of the RN/APRN in Policy Evaluation NURS 6050
Discussion: The Role of the RN/APRN in Policy Evaluation NURS 6050
Healthcare policies are a collection of decisions, goals, and actions created to positively impact the health and wellbeing of the community. The scope of policies can be as small as teams within a healthcare institution to as broad as the entire nation. Nurses learn policies to enable them to increase positive outcomes during the process of care. For instance, they may reduce the risk of contracting a particular disease. Nurses can also use their knowledge and expertise to improve the efficiency of existing policies and propose future policies (Lee et al., 2018). Tobacco tax is an example of state healthcare policies. Tobacco smoking increases the risk of lung cancer and chronic obstructive pulmonary disease (COPD). Upward adjustment of tobacco taxes aims to discourage the use of the product, hence improving health and wellbeing of the community. This discussion reviews the tobacco tax policy.
Tobacco taxes are considered among the most effective policies in discouraging the use of tobacco use especially among younger people (world Health Organization, 2021). Increasing the taxes increases the prices of the products, hence making them expensive. As such, it reduces the number of habitual smokers. The policy also helps to increase revenues for the government. The funds are used to finance other tobacco policies, such as community education. Each state of the United States determines the amount to tax to impose on tobacco products depending on its unique goals and objectives. The most effective criteria for measuring the effectiveness of the policy is determining the decrease in tobacco use after the implementation of the policy. A significant decline implies that the policy was highly successful. No change, on the contrary, implies that the policy was not successful, thus requiring some modifications.
Social determinants such as the impact of the policies on employment affect the policy. The Tobacco industry is a multibillion industry that provides employment for millions of Americans. A drop in revenues caused by the impacts of the tobacco taxes results in loss of employment (Sheikh et al., 2021). However, there is a need to balance between the economic and health benefits of the product. If it costs the country much more to treat tobacco related illnesses than the economic benefits of the product, it is justifiable to impose much higher taxes to discourage the cultivation and consumption of tobacco.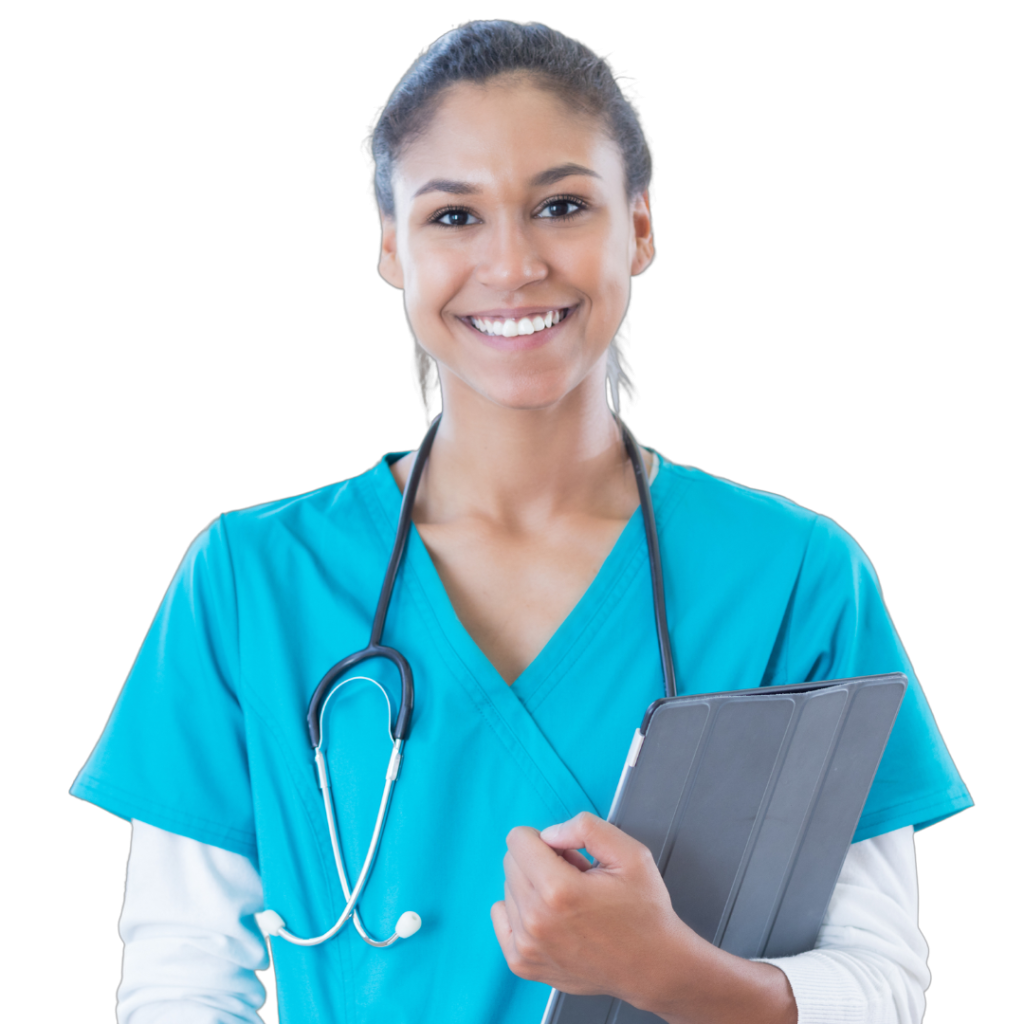 Struggling to Meet Your Deadline?
Get your assignment on Discussion: The Role of the RN/APRN in Policy Evaluation NURS 6050 done on time by medical experts. Don't wait – ORDER NOW!
References
Lee, H.-F., Chiang, H.-Y., & Kuo, H.-T. (2018). Relationship between authentic leadership and nurses' intent to leave: The mediating role of work environment and Burnout. Journal of Nursing Management, 27(1), 52–65. https://doi.org/10.1111/jonm.12648
Sheikh, Z. D., Branston, J. R., & Gilmore, A. B. (2021). Tobacco industry pricing strategies in response to Excise Tax Policies: A systematic review. Tobacco Control, 1–12. https://doi.org/10.1136/tobaccocontrol-2021-056630
World Health Organization. (2021). WHO technical manual on tobacco tax policy and administration. Geneva: World Health Organization.
Nurses and APRNs can actively participate in policy review in different ways. A nurse's influence on policy evaluation protects patient safety, increases the quality of care, and gives access to resources (Arabi et. al, 2014). There are many steps that a nurse and APRN need to take to be involved in the policy review stage. This includes finding a concept of analysis and determining its purpose, reviewing the literature, and understanding the concept of influence (Arabi et. al, 2014). Another opportunity for a nurse and APRN to partake in policy review would be by advocating for their patients and becoming educated by joining organizations that help evaluate policies. These organizations like the Nursing Community Coalition, American Nurses Association's Organizational Affiliates, and more can help nurses get their voices heard when advocating for their patients (AACN, n.d.).
The following are some of the difficulties that nurses and APRNs face when attempting to participate in policy evaluation. Nurses feel excluded and that their numbers are insufficient to be heard (Shariff, 2014). Nurses and APRNs frequently perceive a lack of policy and political development skills, a lack of policymaking education, and a lack of organizational support (Shariff, 2014). I would advise nurses to continue advocating for their patients and to educate themselves on policymaking. I would recommend joining an organization where a nurse's voice is heard and discussing and reviewing the policy advocacy process, as the nurse is the backbone of patient advocacy (Jurns, 2019). Nurses and APRNs can continue to educate themselves and advocate for what they believe in, giving them a voice in policy evaluation and review.
 References
American Association of Critical Care Nurses (AACN). (n.d.). Policy and advocacy. Received
from https://www.aacn.org/policy-and-advocacy
Arabi, A., Rafii, F., Cheraghi, M. A., & Ghiyasvandian, S. (2014). Nurses' policy influence: A
concept analysis. Iranian journal of nursing and midwifery research, 19(3), 315–322.
Jurns, C. (2019). Policy advocacy motivators and barriers: Research results and applications.
OJIN: The Online Journal of Issues in Nursing Vol. 24, No. 3.
Shariff N. (2014). Factors that act as facilitators and barriers to nurse leaders' participation in
health policy development. BMC nursing, 13, 20. https://doi.org/10.1186/1472-6955-13-20
I chose the Affordable Health Care Act Policy as this is well-known and has been a big part of the legislation. The Affordable Care Act (ACA) makes affordable health insurance available to more people. The law provides consumers with subsidies and tax credits that lower costs for households with incomes between 100% and 400% of the federal poverty level (Affordable Care Act, 2020). Politics plays heavily into policy making and evaluation. A video from Walden University (2018) featuring Joel Teitelbaum shares, "It is clear that politics is playing a vital role in the design of the outset and now the implementation and evaluation of the ACA." A program could not be successful after many years if it were not being evaluated and adjusted.
There have been several ways the ACA has been evaluated over time. After evaluation, the ACA has changed from 2011-2022. The policy will always change as the population grows, presidents change, and the cost rises or falls over time. One of the first ways the policy has been evaluated is by the number of individuals enrolled from 2010 to 2022. The government calls this administrative data and has looked at how many people have enrolled through new health insurance marketplaces or the number of people who have enrolled in Medicaid. As numbers have increased over time, policymakers have assumed success. So, if fewer Americans lack health insurance, it will be a crucial indicator of how well the ACA is working.
Administrative data can be limited, so A lot of the policies evaluation has come from surveys over time. In 2014 before federal surveys were allowed, they launched, the Health Reform Survey, this is a quarterly survey of the nonelderly designed to provide timely information on implementation issues under the Affordable Care Act (ACA) and changes in health insurance coverage and related health outcomes (Long,2014). This looked at data, affordability, participation, and healthcare access. It helped give a good visual of implementation success. After that rolled out so did other surveys that had been given to private entities, which ask about health insurance by type of coverage and track changes over time. Another survey that is often a source of health coverage evaluation is the Annual Social and Economic Supplement (ASEC) to the Current Population Survey, which provides socioeconomic and demographic information, including health coverage status, for the non-institutionalized U.S. population (Montero,2022). The surveys look at insurance utilization and insurance status. The survey data received from the U.S. Department of Human Services and Medicare has been used for the evaluation and success of the policy.
Social determinants weigh heavily in the health world, especially regarding the ACA. The World Health Organization defines social determinants of health as the conditions in which people are born, grow, live, work, and age (Abrams,2017). Racism, poverty, unsafe neighborhoods, and lack of education are some of the many social determinants that create health inequity in our country (Leong & Roberts,2013). Not everyone had access to healthcare in 2010 due to the high costs of plans. Poverty greatly affected this over time as money was required to deliver efficient care safely. The Affordable Care Act expansion did lessen the consequences of socioeconomic status and healthcare access by assisting disadvantaged persons in receiving health services. The ACA has been a tremendous help to those falling at or under the poverty level.
References
Abrams, M. (2017). Chapter 7 – Social Determinants of Health. Alliance for Health Policy. Retrieved October 19, 2022, from https://www.allhealthpolicy.org/sourcebook/social-determinants-of-health/
Centers for Medicare & Medicaid Services. (2020). Affordable Care Act (ACA). Federal Poverty Level (FPL) – Glossary | HealthCare.gov. Retrieved October 19, 2022, from https://www.healthcare.gov/glossary/federal-poverty-level-fpl/
Leong, D., & Roberts, E. (2013). Social determinants of health and the Affordable Care
Act. Rhode Island medical journal (2013), 96(7), 20–22.
Long , S. (2014). What do we know about ACA implementation? introducing the Health Reform Monitoring Survey. Introducing the Health Reform Monitoring Survey. Retrieved October 20, 2022, from https://www.urban.org/urban-wire/what-do-we-know-about-aca-implementation-introducing-health-reform-monitoring-survey
Montero,A. (2022). Measuring Changes in Insurance Coverage Under the Affordable Care Act.
KFF. Retrieved October 19, 2022, from https://www.kff.org/health-reform/poll-finding/5-charts-about-public-opinion-on-the-affordable-care-act-and-the-supreme-court/
Walden University, LLC. (Producer). (2018). Introduction to Health Policy and Law with Joel
Teitelbaum [Video file]. Baltimore, MD: Author.
I like your choice of program for this discussion. The ACA has undergone quite a bit of change as it has changed hands throughout different presidencies. I agree that it has had many positive impacts on people below the poverty line and has led to many becoming insured that could previously not afford to be. I believe that evaluating this program in future years is key as the times change. What was the solution when the program was signed into law may not be the solution in future years. As the program changes hands and different presidents and congress staff changes, hopefully beneficial changes are made to allow this to continue to be a beneficial program. I do not think there is a perfect solution to healthcare, however those in charge must strive to continue to evaluate and amend this program.
-Joe
References
Centers for Medicare & Medicaid Services. (2020). Affordable Care Act (ACA). Federal Poverty Level (FPL) – Glossary | HealthCare.gov. Retrieved October 27, 2022, from https://www.healthcare.gov/glossary/federal-poverty-level-fpl/
Effect of the Affordable Care Act in Maryland. (n.d.). ballotpedia.org/ Retrieved on 10/27/2022 from https://ballotpedia.org/Effect_of_the_Affordable_Care_Act_in_Maryland_(2009- 2017)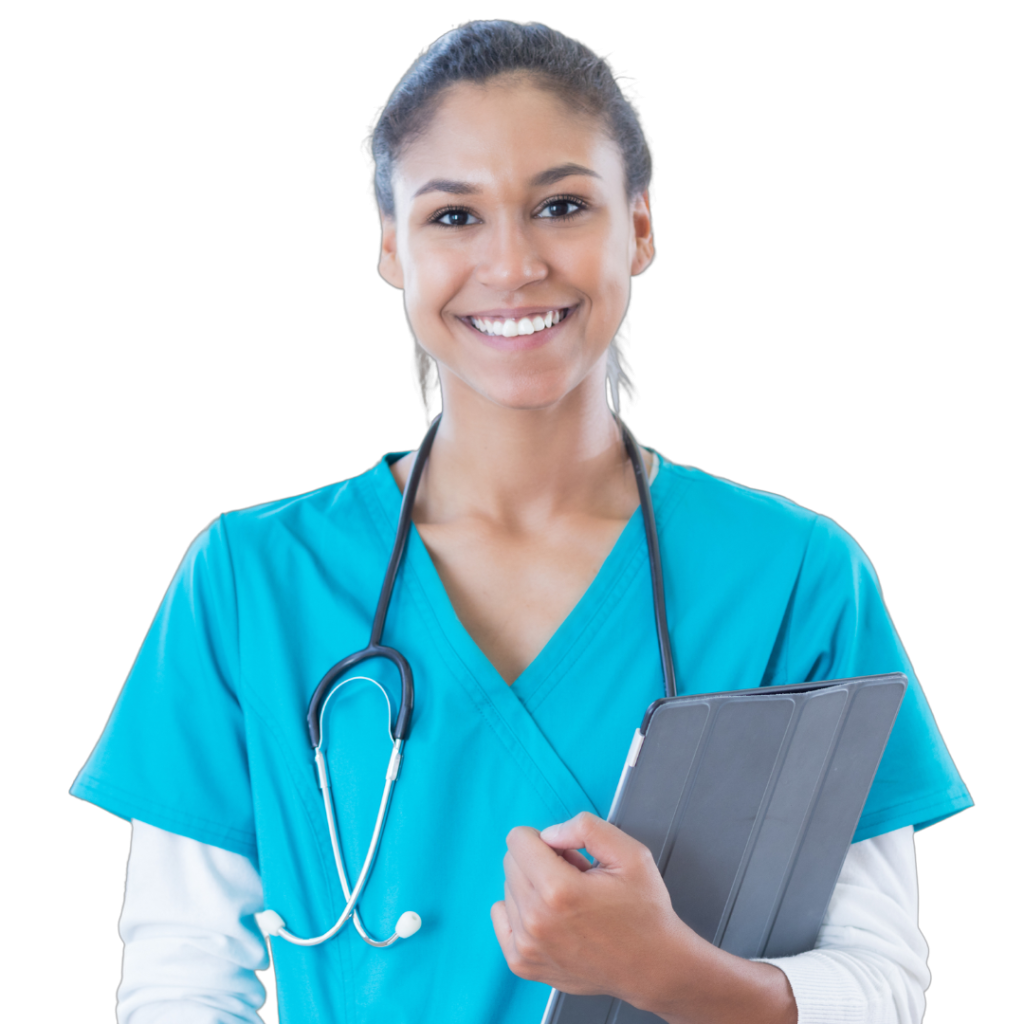 Don't wait until the last minute
Fill in your requirements and let our experts deliver your work asap.